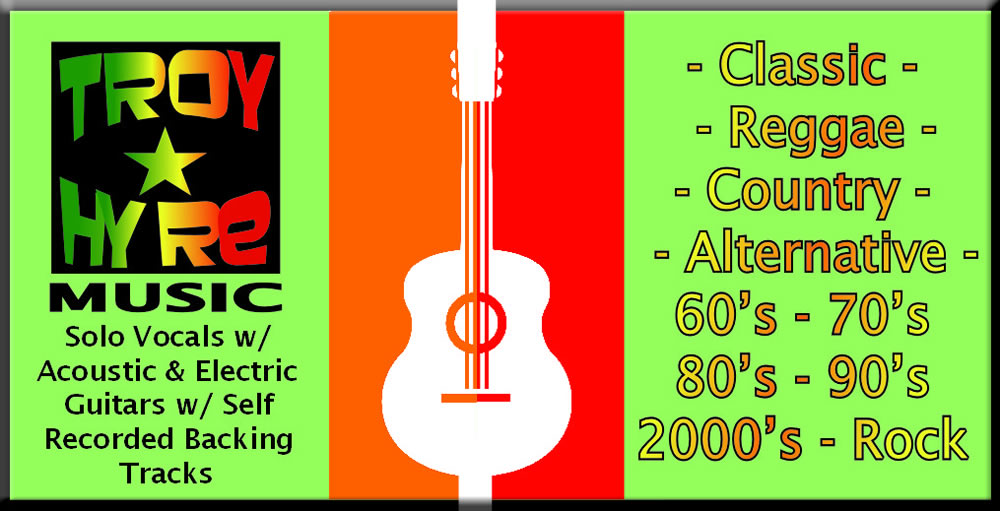 Troy Hyre - Music will sing and play guitar for your patrons at your next event or night of scheduled musical entertainment. I play music of all kinds to match the wide variety of tastes that people naturally have. Like a CD collection, smartphone playlist or a jukebox in a night club, people like all kinds of music! The variation of styles keeps it interesting for all.
I perform and sing hits that span the musical spectrum from the 60's to the present including rock, pop, reggae, tropical, country, blues & alternative played with an acoustic edge. These are songs that people know and recognize and will sing along with, dance or listen to. As a single person act, I use acoustic and electric guitars over a sound system and also use backing tracks that I've recorded in my home studio for a full band sound. I reserve some music in each set list for an acoustic guitar only treatment. I provide a sidewalk sign for outside promotions / drink specials. I can provide music between the live sets as well. I have a website for future promotions. I will sign up appreciative patrons for e-mail alerts when my database is completed so more people will come to the shows over time. I also use e-mail requests that patrons can send to me while visiting your establishment. This will alert me to special events taking place and may include a song dedication.
I'm available for your next event or regular weekend musical entertainment. Please contact me for booking at (352) 434-9866 or e-mail me at troy.hyre@gmail.com. Hope to see you soon!